On beams of love, we meet beyond the chaos and expand the glorious radiance that is our Soul's creation. We do this together – Here's to Unity in the Cosmic Consciousness. Wishing courage, guidance for navigation, inner peace and much LOVE in this new year.
Greetings,
The energetic portalway we went through at the 2012 Winter Solstice, brought us into the highest vibrational frequencies we have yet to receive (and they are expanding all the time). These frequencies assist us in releasing density and raising our vibration. The sun, the Earth and all the planets – as well as the rest of the galaxy and, I suppose, the entire Universe is affected by this (*see science links below).
2013 was all about integrating and aligning with these energies so we can disengage from the false beliefs that have been deeply entwined within our consciousness on the spiritual, mental, emotional and physical levels. At times these energies have made many of us feel flat as a pancake. Limp, with little energy or motivation, sometimes feeling just plain exhausted, as parts of our energy bodies were taken off-line and re-wired.
This is why there hasn't been a Vibe Report from me since July! I have felt empty of words and immersed in my own experience of the energy. Personally, it has been a time of stillness and receiving, as well as releasing. I have also been integrating more major life changes. (By the way, thank you to those who inquired of my well-being during this silent time).
We have been in a dance of change that goes beyond words. As I sit here writing this, I am seeing movement in my inner eye that describes what is energetically being offered to us at this time. There is feeling, there is color and movement and a buoyant, giddy delight as we fly through space and time. Speaking of time, it has felt like being inside a lava lamp! No linear time, just flow of expansion and contraction. We are receiving information – energy – in a non-linear way. Downloads of energy that open us to feelings or inner sight, inspiring us to creative expression.
Moving Sidewalk
As we expand forward, I am seeing that we're just about to step onto a moving sidewalk. Some of you are already on this sidewalk and have felt it speeding you forward before you even got both feet on it! Woah, there's a bit of a wobble before we find our balance, but we need to get that balance quickly as new responsibilities and projects flow to us. These new demands actually help us to connect to balance in a moving dance as we play with ideas, concepts and inspirations.
So brace yourselves, and jump on board, when the moment is there for you. And that sidewalk is tricky because it can suddenly stop, too! We could fall on our face or turn that momentum into a dance in the moment of NOW. Our intentions are being manifested quickly, so having well defined intentions and clear boundaries is paramount. We need to value ourselves, our time, our endeavors and be clear about what we are saying yes or no to.
Re-set, Re-boot, Re-wire
It has been said by many teachers and channels that at this time we are hitting our "re-set" button. Some are experiencing a renewal of energy towards the work they've been doing, which for the last few years may have been feeling flat and uninspiring. Others are finding their way into new pathways. What we need to remember is that we are the creators. That doesn't mean sitting around waiting for "The Universe" to guide us onto new pathways. It means listening to our hearts and acting in the physical world to make it real. Remember the saying: "We are the ones we've been waiting for."
Unity Consciousness
As we integrate the high vibrational frequencies we are becoming more and more aware of our connection to one another in the Collective Consciousness. Unity, One-ness. We are coming to know ourselves as one being – one Human Being. It is through this unity that we rise in strength, living as harmonic beings in cooperation with one another. The fear program has kept us separate and in competition. We are already in unity. We lit up the Collective Consciousness through critical mass awakening way back in 2011! Many have not realized this because of habitual behavior of the brainwashing programs of false beliefs.
Our true nature is collaboration and cooperation. Each individual has a beautiful harmonic to offer to the vibrational frequency of Humanity. We feel each other's feelings. We are already telepathic. If we are silent enough in our minds, we can hear the music of our hearts as the electromagnetic force of our hearts reach out and touch one another. This is the future we are heading towards when we choose love.
Clearing, Releasing and Filling
We are still – sigh – clearing and releasing the "sticky stuff on the bottom." We are clearing those false beliefs I just mentioned – programs held in the Collective Unconscious that are residual frequencies held through habit in the Awakened (Collective) Consciousness. For some of us the clearing is going to a deeper level at this time – we are clearing energy streams of negative choices that human beings have made.
These energy streams have a dense vibrational frequency and are memories from other timelines and life streams rising into our Collective Consciousness. We have been clearing our own unconscious choices for many years and now, and as we become more and more clear (awake), we are purging, on a vaster scale, the density of fear which cannot exist in the higher vibration we are choosing.
It's important to remember to fill our energy field with light and love after we have gone through a purge. Tune into the vibration of love at your heart center and expand it outward through your body and your aura. If you like, you can call on Creator Source energy – or the Vastness of the Universe – to rain down all around you and through your body as well.
Play with light and color – some see it as white light with golden sparkles – whatever shows up for you. Also you may want to send your awareness down into the center of the Earth and draw the Earth energy up into your body and radiate it out into your aura as well. Be playful, have fun and be aware of different nuances you may feel.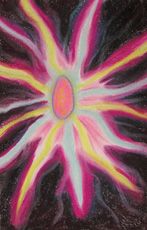 Vortex, January 20, 2014 © Nancy Wallace Ward, 2014
Centrifugal Force
If you have been aware of some really negative thoughts filtering into your awareness, breathe into the light within you, find your stillpoint, and allow the thought forms to flow outward. These are not your thoughts, they are part of the Collective and you have chosen to assist with this massive clearing. Many people are having really disturbing dreams. Hold yourself in the center of your heart and allow the darkness to be sucked away. The high vibrational frequency is creating vortices of spinning energy and those who are choosing to assist with this massive purging are sending the vibrational thoughts and feelings of density through themselves into the vortex to literally be sucked out of the Collective Consciousness.
We have always had the choice to choose darkness or Light. There have been some terrible choices made by human beings who played with aligning with the dark force. This dark force is a consciousness that has simply chosen to not align with the Creator Source of love and light. Through different lifetimes of our Soul's experience, we have all played with this dark alignment.
It's OK, we're letting it go now as we ride the higher energies to freedom. If you find you have chosen to assist in this purging process, don't overdo it. Navigate yourself to the center, the stillpoint of the spinning centrifugal vortex of clearing and be one with the energy that is sucking those negative "memories" from the Collective Consciousness. Then smudge yourself and take a nurturing bath or have something nourishing to eat, do a creative, expressive activity or just dance this mess around.
Feeling Overwhelmed
Negativity – evil actions and choices – are coming to the surface because of the acceleration of high frequencies that are flowing from the center of our Galaxy. (This is the more etheric aspect that the science journals don't discuss – how this energy is affecting us.) We are seeing this density rising to the surface through political leaders, hidden satanic agendas, mind control through television and other media, and other authoritarian establishments. The matrix is very deep. However, the density of evil is not evolving – it cannot evolve in a Universe that is created through the frequency of love.
It cannot create, it has no energy of its own, and it is devolving. So, when you feel overwhelmed and feel that humanity is evil, remember that love is the vibrational frequency that will help us to rise above the density. Human Beings are intrinsically loving, compassionate beings. The Human Race has been wounded through fear and that is what we have been clearing all these years. So it is our responsibility to bring ourselves into the frequency of LOVE.
Love Rays, January 22, 2014 © Nancy Wallace Ward, 2014
Celebrate the Ridiculous
When talking about "negative choices" and "choosing darkness" and aligning with Light or Dark, I do not mean that our goal as Light Bearers is to live in total light someday – there is polarity here in this physical existence and that is part of the beauty of light and dark. I am talking about purging a dark influence that has been present with Humanity – that is the instigator of the false beliefs that are disempowering Humanity through fear and have been handed down generation to generation.
We need to know it is always a choice – fear or love.We are not victims of this density or negativity. It is always a choice. As we continue to raise our vibration into love, healing our pain, forgiving ourselves, making choices that are alive, following the energy of our truth, we radiate this vibrant energy into the world and that other, dense energy cannot live within this high vibration. Mirth, delight, FUN, ridiculous silliness bubbles up into joy and in that vibration there is no receptor for the fear. And the fear has nowhere to live.
Exposing the False Authority
As we continue to align with the Life Force Energy of the Universe – which is love, the structures that are aligned with enslaving people through fear, hardship, financial struggle, are crumbling. We are seeing over and over again the corruption in governments around the world. And, all over the world people's voices are becoming stronger. There is an awakening that is occurring on every level of being. Granted there are still many who are lulled to sleep by the frequencies of complacency and resistance to change, but many are rising up and saying NO MORE.
People are realizing that the Authorities they looked up to and gave their power to, have never had the best interests of Humanity as a priority. People are finally awakening to the blatant lies, deceit and thievery that has been perpetrated by the psychopathic rulers and business leaders for so long. Non compliance is a choice we can make as we create a world of cooperation. As we begin to realize how connected we all truly are in unity consciousness, we will be able to feel how powerful we are when we stand united.
Delays
Now, many of us came here to bring more Light – true wisdom, love – to this planet to raise the consciousness of Humanity and to assist in restoring Earth and Humanity to the original intention that was created by our Family of Light….(who are, actually, ourselves). We had a plan before we entered into the birth experience – we had a group plan, but some events happened that delayed our original plans and some of us have floundered for a time in our lives, feeling lost and like we don't belong here.
The delays have created more work for fewer people as those of us who have seen through the façade of "reality" have continued to work on clearing false beliefs from our energy field and releasing what isn't our truth while we waited for our fellow humans to come around (wake up). That, too has been delayed as humans have been brainwashed into giving their power away to the various authorities here on Earth. That goes for the authority of the military industrial complex, to the economic authority, medical authority and various spiritual authorities, to name a few.
2014: The Year of Taking Responsibility
Many of us have felt like we're waiting – for several years now – for a mass awakening to occur. This is one of the reasons that some of us have felt tired…or frustrated, to say the least. We have done the work of clearing not only for ourselves but for our ancestors as well. Many have come to completion with that part of the work – the ancestral clearing. They are now simply radiating the light for others to arise into their truth – like holding a doorway open for others to pass through. This is something that each individual must accomplish on their own… but of course they need to have the intention to do so.
For Those Seeking Assistance
I've been receiving emails from people who want to know how to begin healing on a Spiritual level, so here is the message to you. People who are wanting to experience spiritual healing need to know that they chose to come here to Earth to be part of this great awakening. Because of the delays previously mentioned, certain preparations were not able to be in place for the arrival of the "next waves" of people with high vibrational energies. This could make people feel at a loss and lead to substance abuse and mental confusion. It is important to connect to your Higher Self – your soul.
You can do this through meditating on your essence – your unique energetic vibration. Finding a therapist that is focusing on their own spiritual growth could be very beneficial as you begin to clear old self destructive behaviors. Go on a media fast – stop watching television! Stop eating junk food and stop putting junk into your brain. Seek out a spiritual community where you live – find a meditation group, begin exploring a yoga practice.
If you are just beginning, it is helpful to find a supportive community to help with spiritual awakening. Reiki and other energetic healing modalities are very helpful for raising your energetic vibration. Don't think you have to do this by yourself. This is how you take responsibility for your own healing. If you want to make changes, you can – there is so much support out there in the world at this time.
Many Blessings to you all,
Leilah